ManageFlitter 2021 Update & New Beginnings

TL;DR Summary: In early 2019 and without warning, Twitter deactivated ManageFlitter's access to the Twitter public API. ManageFlitter ultimately regained API access (after we removed most of ManageFlitter's core functionality). Since reactivation, the new limited ManageFlitter has remained accessible to users. ManageFlitter will continue to remain available, whilst it is financially viable for us to maintain the ManageFlitter technical infrastructure. There won't be any further active ManageFlitter system development, unless we are able to re-enable elements of ManageFlitter's original core functionality. At this stage, this seems unlikely. BUT all is not lost … Team ManageFlitter has been working on an exciting new app ... Ukufu… (Find out more about Ukufu below.) what ManageFlitter did for managing your Twitter account, Ukufu does for managing your content and news feeds.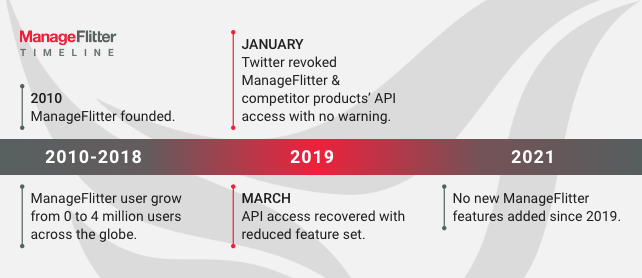 Tweets from Twitter/ManageFlitter users regarding Twitter revoking ManageFlitter's Twitter API access with no prior warning -: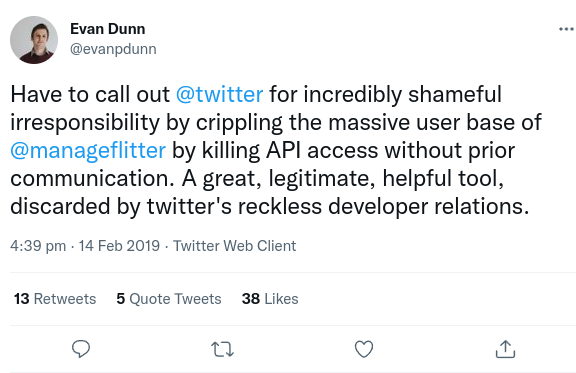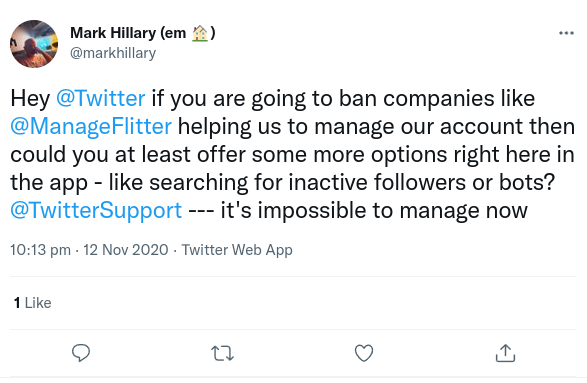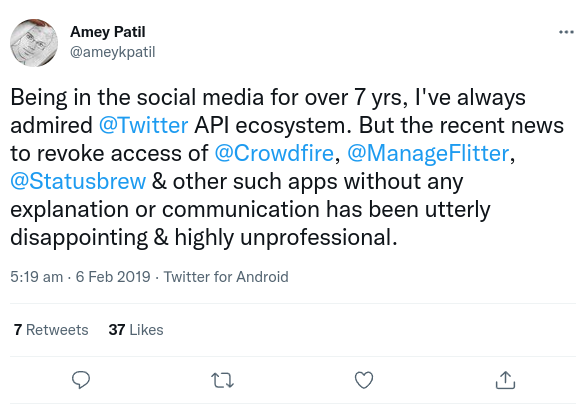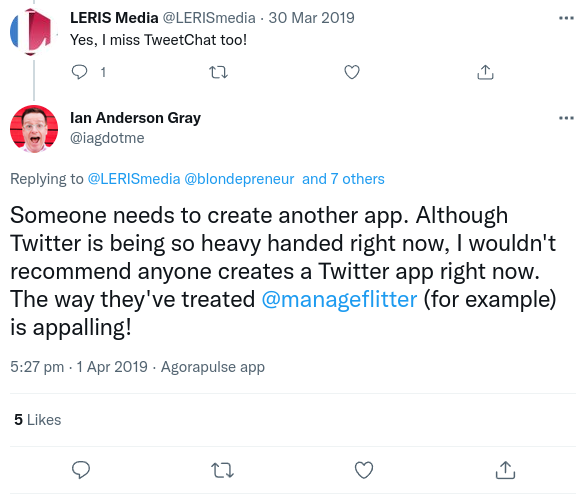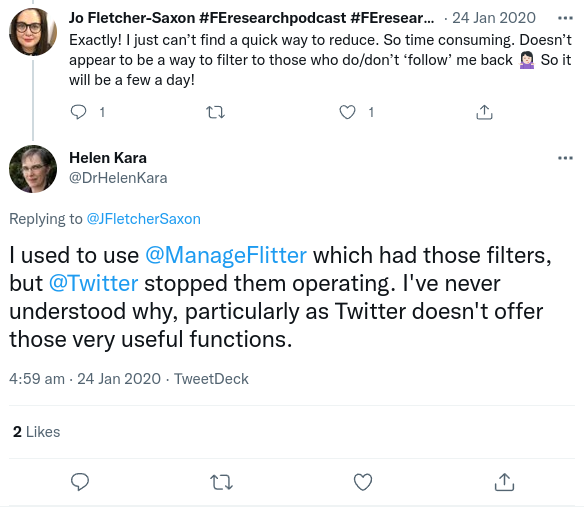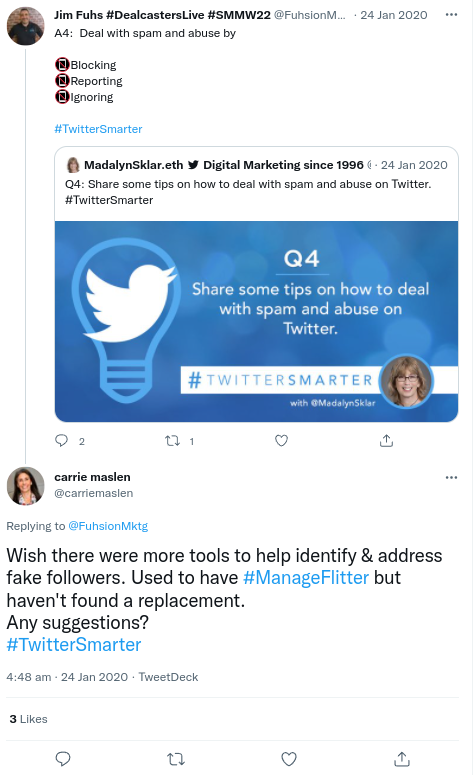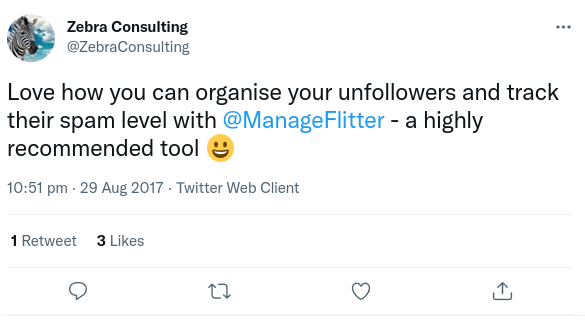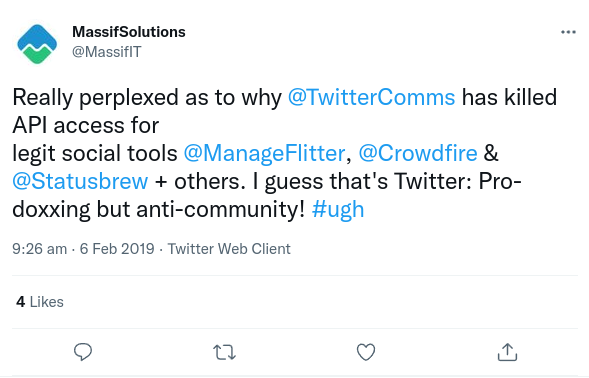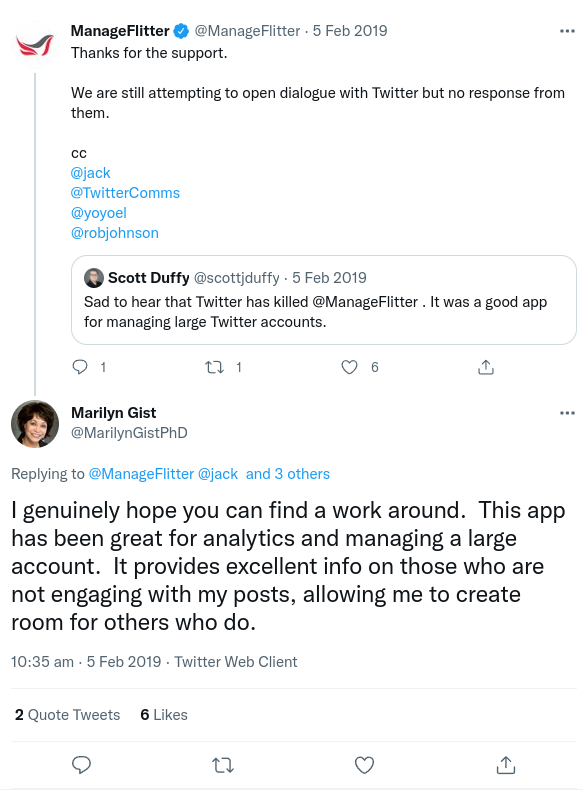 A small selection of ManageFlitter endorsements that we have received from Twitter/ManageFlitter users over the years: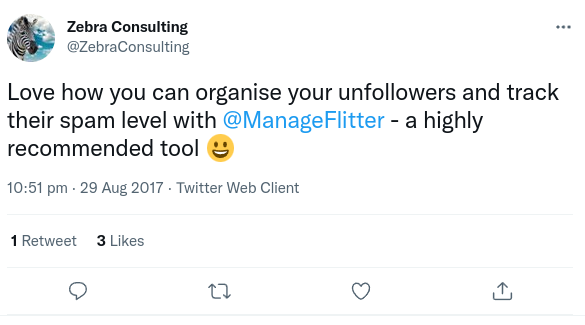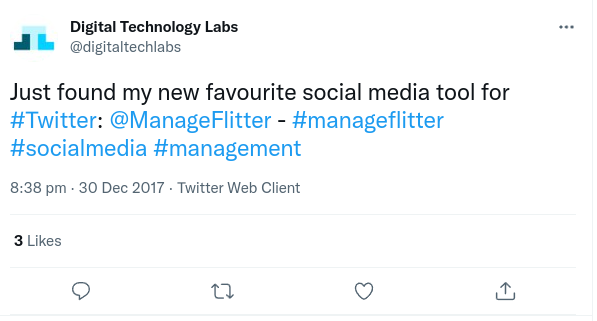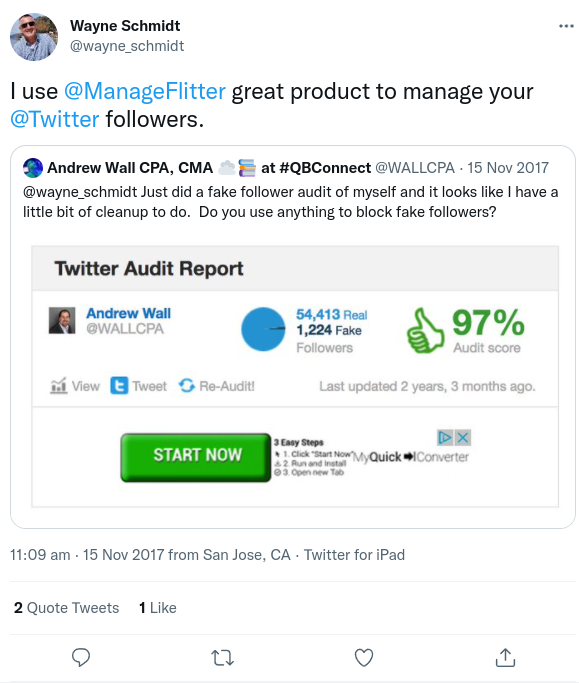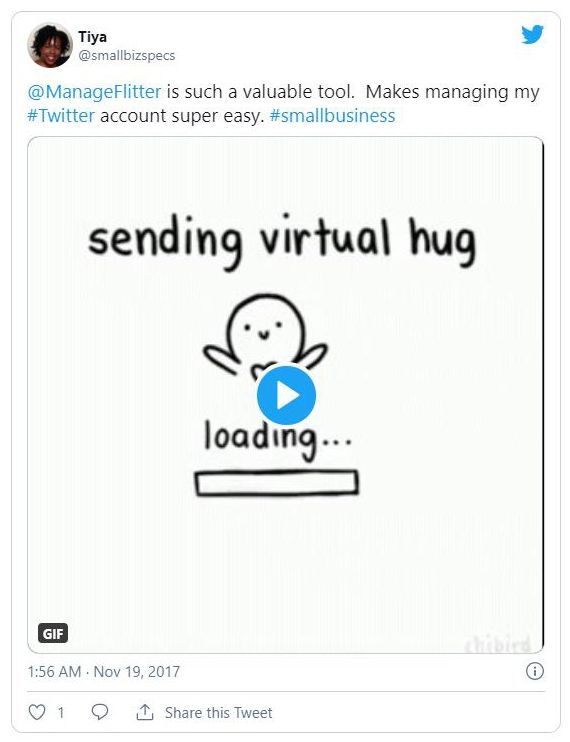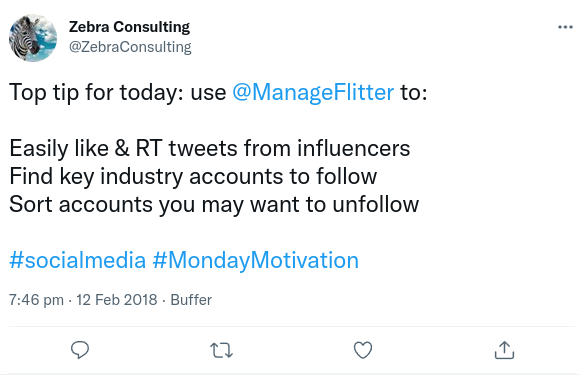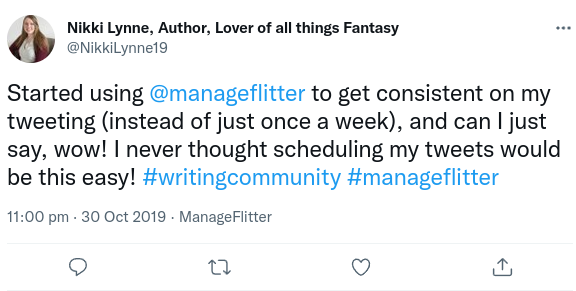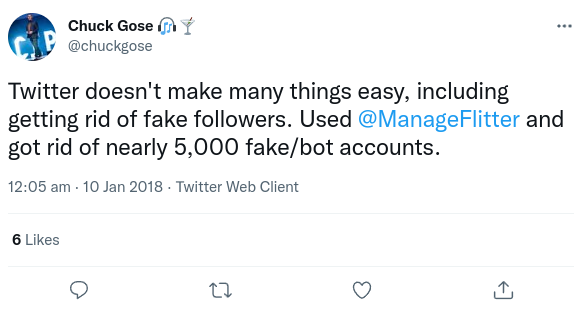 February 2022 Update: We were able to meet with members of Twitter's API and Policy teams at the end of January 2022. Unfortunately, no pathway forward was offered by Twitter with respect to a reconsideration of the original ManageFlitter feature set. For this reason we have decided to permanently shut down the ManageFlitter service.
Backstory
Since March 2019, there have been no new ManageFlitter features, or other ManageFlitter system enhancements.
This is unlikely to change for the foreseeable future.
We will however, continue to maintain the ManageFlitter system and support existing ManageFlitter users, as long as it is financially viable for us to do so.
Some background: At the end end of January 2019, without any warning or prior communication, Twitter sent us a short email mentioning that they will be revoking ManageFlitter's access to Twitter's public API with immediate effect. Twitter also revoked public API access for competitive products offering similar features to ManageFlitter.
Text of Twitter's email: "ManageFlitter has been found in violation of the Developer Agreement and Policy... specifically, your app facilitates bulk and aggressive follow behaviour, such as follow churn."
This sudden API deactivation was a big surprise to our team. ManageFlitter had always been fastidious about complying with Twitter's Developer Agreement and Policy. At various times over the years, Twitter had reached out to us, and asked us to make changes to specific features, or to put limits on specific ManageFlitter features. We always complied in a timely manner with all of these Twitter's change requests. There was never any indication, or communication relating to an imminent threat to our API access.
I want to emphasize that ManageFlitter never provided any "black hat", or off API functionality. ManageFlitter functionality was always via Twitter's own official public API, with Twitter themselves re-approving our application for elevated Twitter API access 5 months before deactivation.
Side note: over the years, navigating Twitter's public API policies twists and turns, and Twitter's regular reinterpretation of their own policies, made it very challenging to build a third party product on top of Twitter.
As mentioned, as recently as August 2018 Twitter (deactivation occured January 31 2019) had explicitly re-approved ManageFlitter's API access. ManageFlitter's functionality had not materially changed between August 2018 and January 2019. Nor had Twitter's Developer Agreement and Policy changed during that time period. Clearly, their interpretation of this Policy had changed.
Whilst ManageFlitter ultimately recovered Twitter API access (after intense efforts and cost on our part, to advocate for a modified ManageFlitter), we were forced to remove many of the features that our users found the most useful.
ManageFlitter's Twitter API deactivation seemed to be a consequence of Twitter suddenly taking a very hardline approach to "account churn" - following/unfollowing behaviour - and wanting ManageFlitter and similar products to remove any functionality that would provide insight and functionality for users to easily follow or unfollow based on a list, for example a list of who doesn't follow you back on Twitter.
However, Twitter now seems to have recently released their own in-app "bulk follow" functionality based on a "list" - see images below. This in-app functionality does seem contradictory to Twitter's apparent concerns with our service and in-app bulk follow functionality.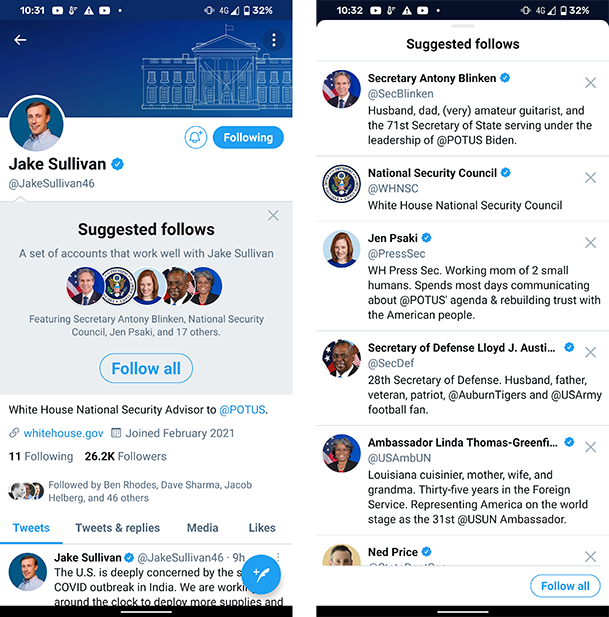 Perhaps the reasons for Twitter's ManageFlitter API deactivation, and forcing removal of our core features were not as straightforward as we initially thought. Was Twitter's API deactivation only based on platform health concerns? or were there other considerations? We will probably never find out.
We acknowledge that for Social Media platforms such as Twitter, maintaining platform health is a large, complex and important challenge. Poor management of platform health, in the extreme case, can degrade the usefulness of a Social Media platform.
ManageFlitter have never been privy to details of Twitter's platform health challenges. Furthermore, we have always understood that as a third-party Twitter tool, by default, we were bound by Twitter's product and platform decisions.
However, what was particularly disappointing was how the process was managed from Twitter's end.
For over 9 years ManageFlitter was one of the largest Twitter management tools, and our product helped over 4 million Twitter users bring Twitter to life. Yet, we weren't even provided with lead time to ensure that our systems could be reconfigured to gracefully handle the deactivation. This was extremely frustrating. For example, Twitter API access was the central component of our system, thus once deactivation occurred, our users were unable to log in and cancel their ManageFlitter account. At the very least, Twitter should have provided us with time to prepare our systems and processes for API deactivation.
Twitter determining the ground rules regarding Twitter API access is one thing, but reasonable lead times with respect to changes to service provision, clear and unambiguous policies, and the opportunity to engage in substantive open communication, should be par for the course between Twitter, and a very long standing ecosystem partner such as ManageFlitter. In general, any company inviting companies to integrate with their product, should be offering the above to their long term partners in their ecosystem.
The ManageFlitter product was created in good faith - regular users of our product included politicians, celebrities, small business owners, consultants, and ... Twitter staff! One of the top 15 largest Twitter accounts in the world engaged our services to assist in decluttering their Twitter account.
ManageFlitter use cases were genuine: ManageFlitter was created to declutter your Twitter account, and to help find quality Twitter accounts to follow. ManageFlitter also provided a comprehensive Twitter search, filter, and sort layer.
Twitter users consistently shared with us how ManageFlitter brought their Twitter experience to life.
Comprehensive discussions with Twitter could have resulted in effective colloborative efforts between ManageFlitter and Twitter. An improved ManageFlitter service, happier Twitter users, as well as a reassured Twitter could have resulted from upfront discusisons between Twitter and ManageFlitter.
A short deactivation email from Twitter was not the way I had anticipated that the 9 year ManageFlitter journey would end!
I have continued to attempt to establish dialogue with members of Twitter's public API team. Unfortunately, to date, I haven't made any material progress in talking with anyone from Team Twitter. We are a tiny company based in Sydney Australia, a long way from the San Francisco Twitter HQ, our influence and access to decision makers at companies like Twitter is limited.
I am confident a discussion with the Twitter public API team could result in an agreed way forward.
Until such a path forward presents itself however, no further ManageFlitter development will take place.
It was incredibly rewarding building a product that became so loved. Despite the challenges, we thank Twitter for the opportunity to create such a great product and business on top of their product.
Building a product on top of other products is always tricky. You trade distribution for platform risk. Limited insight into the driving forces behind the organisation (Twitter) that your company (ManageFlitter) is built on, adds a non-trivial level of risk to your business.
A big thank you to all of our loyal users who went through this less than ideal experience in 2019 with us! ManageFlitter was built by our team from scratch, and without any financial investment. We were therefore extra proud to service paying ManageFlitter Pro users from over 100 countries (prior to API deactivation)!
A very special shout out to the ManageFlitter team, who went wayyyy beyond the call of duty during this episode in early 2019. The tenacity, resilience, loyalty and commitment each team member displayed during this difficult period was humbling! Thank you.
New Beginnings - Ukufu
Whilst one door closes … another opens.
Thankfully, despite the ManageFlitter challenges in 2019, my entrepreneurial spirit and drive remained healthy and strong!
Once it was clear that ManageFlitter's wings would remain clipped, I searched for inspiration for a new product to build with the team.
Enter Ukufu … a content aggregation app combining the best of first principles and the latest AI technology.
A quick overview of Ukufu v1.12 (we are iterating quickly, with new releases almost every week - this video will be out of date by the time you watch it, download Ukufu to experience the latest release!)
Read more about the inspiration for Ukufu.
The amount of content published daily has exploded, but tools to consolidate and simplify content consumption from a user's perspective are still lacking. The content consumption experience is still frustratingly fragmented, and filled with distractions and noise.
The learning cycles in most industries today are faster then ever - needing to stay up to date is a requirement for most of us, yet trudging through content to find the relevant bits seems to be getting trickier and more time consuming - particularly without the right tools.
Ukufu was created in the spirit to help save users time with respect to looking for the right content, to help them do their job better.
In the first instance, Ukufu is solving to 2 problems for Social Media Managers:
1- : Social Media managers have a particularly unusual demand to stay on top of product and platform changes. (I know from my days at ManageFlitter, discovering a product change well after the fact was frustrating, yet there was no simple way for me to stay up to date with all Social Media platform changes.)
Our Social Media Official Topic feed solves this - making it easy for Social Media managers to see product and company updates from all the major Social Media platforms in one place. Our general Social Media augments this information.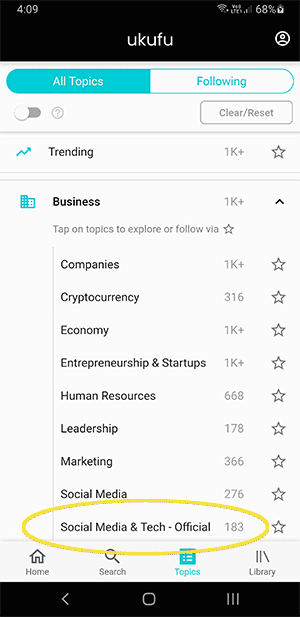 2- : Social Media managers also have a requirement to find relevant articles to share. Our powerful and simple search surfaces recent articles based on your keywords searches. Ukufu search is particularly effective at finding interesting, recently published "long tail articles", from non mainstream sources.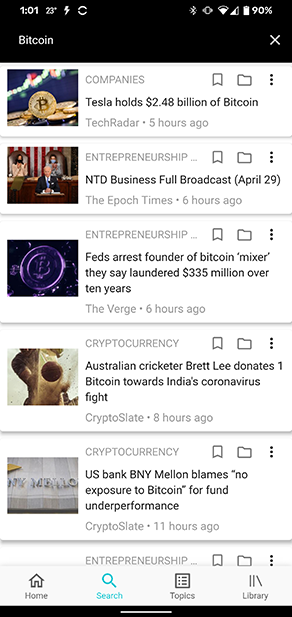 See a clip of how Ukufu can help Social Media Managers below:
We have been quietly building out Ukufu since around July 2019 and we are finally ready to share it with the world.
This is only the start of the Ukufu journey, and as we get to further understand our users and their requirements, the product will further evolve.
We would really appreciate your help! And it will only take 5 minutes or less of your time!
Download Ukufu (it's available on both Google Play Store and Apple App Store), spend 5 minutes taking it for a test drive, and leave a review for us - we think that you will LOVE it.
Again, thank you to all ManageFlitter users and we hope that you can join us on the Ukufu journey … onwards.
Please feel free to email me directly at ceo at manageflitter dot com.